C.C. McCotter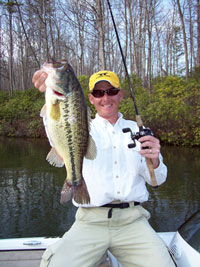 The founder of McCotter's Lake Anna Guide Service has fished Lake Anna for the past 30 years and began guiding 20 years ago. Long since over his competitive fishing days, McCotter's passion now lies in teaching others, a philisophy obvious after just a few moments on the water. From the tournament contender to the father and son out for some quality time, McCotter has taken care of them all. He is the most experienced fishing guide on the lake.
Clients have caught largemouth bass up to 10 pounds with C.C. and countless striper and crappie. The MLAGS founder has been featured in BASSMaster, Fishing Facts, BASSIN', CRAPPIE, InFisherman, Virginia Game & Fish, Woods & Waters and many other magazines. McCotter's vast storehouse of Anna knowledge comes from living on the shores of the lake with his family since 1986. His dedication and stewardship to Anna is also evident from his directorship of the annual Fish Structure Enhancement Program. He and his fellow volunteers have created or enhanced 12 Fish Structures in Lake Anna. (Call him if you want to help.) Another project McCotter initiated, the annual Lake Anna Cup Invitational, grew to 76 teams in 2009 and has become one of the most prestigious events on the lake to win.
"We are totally immersed in guiding and caring for Anna. That's it. My philosophy was to fish one lake, try and master it and then teach others. What makes Anna so special is that if you can learn to catch fish here, you can catch them anywhere."
McCotter is a founding member of the Concerned Bass Anglers of Virginia, a member of the Virginia Outdoor Writers Association and his sponsored by High Point Marina, Anna Point Boat Sales, Nitro boats, Mercury outboards, Pure Fishing (ABU Garcia, Berkley, Fenwick, Spider, Mitchell) Lowrance/Eagle electronics, Dave's Tournament Tackle and Fishing ProTech.
You can follow his day-to-day guiding at Facebook/McCotters Lake Anna Guide Service.

Shawn Blankenship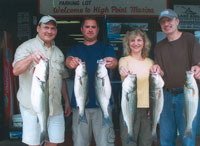 Sean handles many of our live bait striper trips using a new 20' Carolina Skiff. His rig is roomy and stable and allows him to acccommodate up to four anglers with up to 12 lines of native baitfish. Like all of the MLAGS Associates, Blankenship is part of a team of anglers that all work together to put you on the fish.

John Chadduck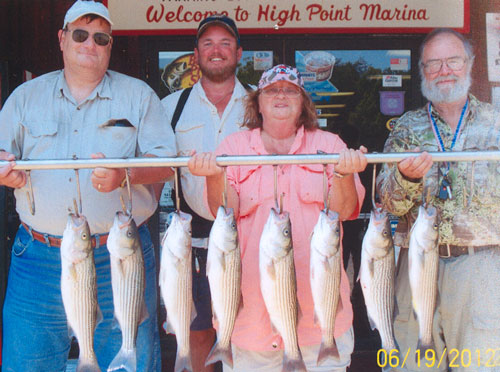 If you've ever been to High Point Marina you'll remember John. He's a friendly fellow that is always willing to give you a fishing tip or a hand with your rig. John specializes in striper trips using live bait and trolled lures. He's especially adept at teaching the art of umbrella rig trolling. Chadduck fishes out of a 21' deck boat.

John Hutchins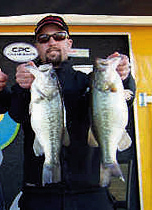 John has set the standard for tournament fishing on Lake Anna for many years. He's funny, smart and an incredibly talented angler you'll enjoy sharing a boat with during your trip. Hutchins runs a Beaver's Marina Triton 21X powered by a Mercury OptiMax 250 XS outboard. He has 10 years guiding experience out west and two with MLAGS. He is an excellent teacher with a laid back California attitude and quick wit. He specializes in teaching the Shaky Worm and dropshotting.

Chris Craft
A great choice for your largemouth and crappie trip, Associate Guide Chris Craft has been a friend for many years as well as a successful tournament competitor on the lake (Lake Anna Cup Champion 2012). He joins McCotter's using a 20' Gambler with a 225hp. If you want to go crappie fishing and I'm guiding or in the office, we now have someone that really specializes in and excells with this type of trip. I think you'll really enjoy Chris' boat manner and guiding style.

John Barlow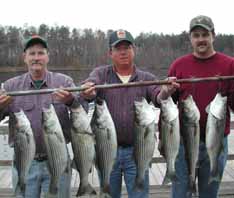 John is back with McCotter's and we are better for it. He runs a 22' Sea Pro powered by a 225hp Yamaha 4-stroke with plenty of room for your large group needs. Barlow knows the intricasies of running up to 12 lines of bait for striper and his easy-going manner is one of our greatest assets.

Darin Clements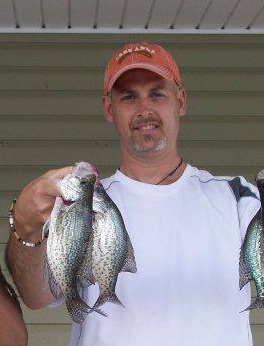 Darin is a crappie specialist from his gear to his boat. He joins McCotter's with a fine knowledge of freckle fishing, a comfortable pontoon and the desire to provide a fun day for you and your family. Want to learn the art of spider poling for crappie? Darin is one of a handful of spider pole trollers on Lake Anna. He also employs slip bobbers and minnows as well as casted jigs during his guided trips.